Dr Eleni Zacharakis was born in Athens, Greece and graduated in 2006 from the Hellenic- American Educational Foundation, Athens College. In 2011 she graduated from the Dental School of the University of Athens.
After finishing her undergraduate studies, she worked for a year as a clinical fellow at the Oral& Maxillofacial department of the Athens General Hospital 'G. Gennimatas' as well as the dental departments of the Athens Naval Hospital and the Psychiatric Hospital 'Dromokaiteio'.
Throughout the period 2012-2017, she lived permanently in the United Kingdom working as an Associate Dentist, where she gained significant clinical experience in a wide range of kids and adults dental procedures. 
In 2015, having successfully completed a one year full-time postgraduate course, she was awarded the Master of Science in Conservative Dentistry from the renown UCL Eastman Dental Institute, London, UK. This MSc programme gave her the opportunity to specialize in restorative and cosmetic dentistry. The topic of her Thesis was the development of novel restorative materials (composite resins/ white fillings materials) with antibacterial and remineralising properties. Her dissertation entitled 'Development of Novel Antibacterial and Remineralising Dental Composites- An in vitro study' was awarded a distinction and part of it was also published at the international journal PLOS One. (http://journals.plos.org/plosone/article?id=10.1371/journal.pone.0164653). 
After finishing her postgraduate studies, she continued working in private dental practices in the City of London as a dental associate with a special interest in cosmetic dentistry as well as in treating patients with 'dental phobia'.
She holds a membership at the Attica Dental Council, the British Dental Association (BDA), the General Dental Council (GDC: 228181) and the International Team of Implantology (ITI). She is attending numerous national and international conferences, aiming to follow the latest trends and technologies in order to provide cutting-edge dental services.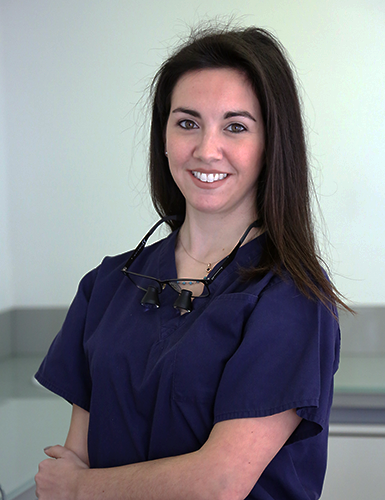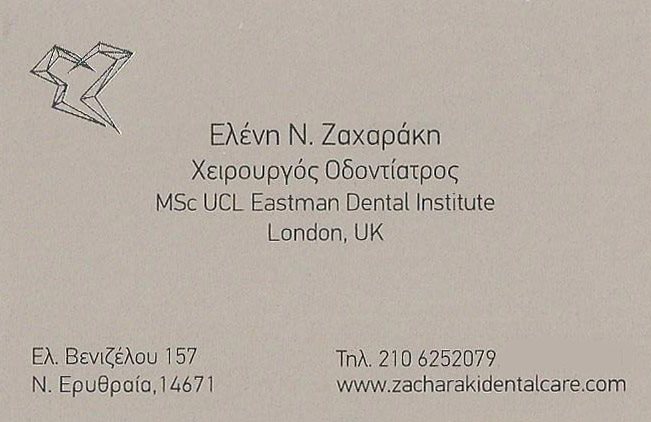 *In June 2017 she established the private dental practice Zacharaki Dental Care in Nea Erythrea, Athens, Greece, aiming to provide general and specialized dental treatments of the highest standards and quality. She is a keen believer of the holistic approach of the dental patient, following the journey from prevention to treatment and finally to the aesthetic rehabilitation. Dr Zacharakis applies the latest evidence- based international dental protocols and guidelines, having always the patient's needs and personality as the centre of the whole treatment procedure.